About Us - Galexia News
Galexia presenting at CPDP2017 (The Age of Intelligent Machines) Computers, Privacy & Data Protection 10th International Conference, Brussels - 25 January 2017
Related Galexia services and solutions

Related Galexia news and articles







Tweets by CPDP Conferences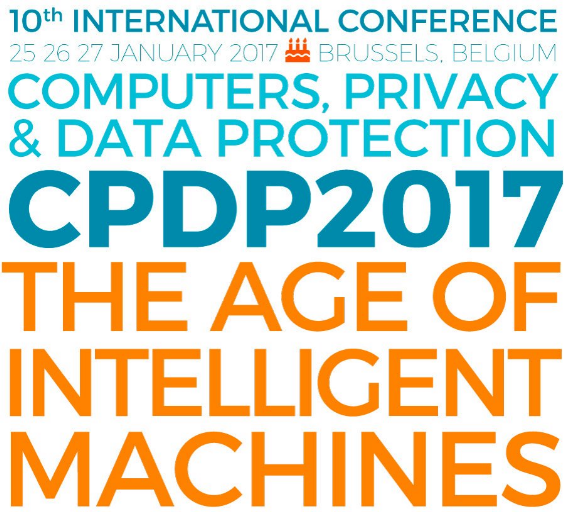 Galexia Director Chris Connolly will be presenting at CDPD2017 - The Age of the Intelligent Machine at the 10th International Computers, Privacy & Data Protection (CPDP) International Conference in Brussels on 25 January 2017.
CPDP (now in its 10th year) is one of the largest gatherings of privacy experts in the world. More information about the conference is available at: <http://www.cpdpconferences.org>






CPDP offers the cutting edge in legal, regulatory, academic and technological development in privacy and data protection. Within an atmosphere of independence and mutual respect, CPDP gathers academics, lawyers, practitioners, policy-makers, computer scientists and civil society from all over the world to exchange ideas and discuss the latest emerging issues and trends. This unique multidisciplinary formula has served to make CPDP one of the leading data protection and privacy conferences in Europe and around the world.

CPDP2017 adopts "Artificial Intelligence" as its overarching theme to pave the way for a timely and thorough discussion over a broad range of ethical, legal and policy issues related to new technologies. CPDP2017 will stage more than 70 panels addressing current debates in the area of information technology, privacy and data protection. Session topics range from the implementation of the GDPR, ePrivacy Directive review, the implications of Brexit for data protection, de-identification, EU-US Privacy Shield to Big Data and insurance, algorithmic decision-making, cybersecurity, IoT, the ethics of AI and much more.






Chris will be speaking on the topic of international data transfers as part of an expert panel considering Legal challenges to the international transfer of data: Privacy Shield and standard contractual clauses (SCCs):
Chair: Bruno Gencarelli, DG JUST (EU)
Moderator: Guido Lobrano, Business Europe (EU)
Panel:

Thomas Boué, BSA (US)
Chris Connolly, Galexia (International)
Fanny Hidvegi, AccessNow (International)
Christopher Kuner, Brussels Privacy Hub (BE)

Theme: The panel will focus on the recent legal challenges to data transfers from Europe to the rest of the world: from the Schrems II case on the use of Standard Contractual Clauses to the recent formal complaints against Privacy Shield seeking to annul the European Commission implementing decision, and what these could entail for global data transfer mechanisms. After a brief explanation of the various challenges and the transfer tools put into question, we will focus on the implications that these challenges may have if they were to succeed. This panel will allow for a timely and very topical discussion on a series of ongoing legal developments that may have a profound impact on the future of the Europe and its economy.

The Panel will ask:

What is at stake with regard to the legal challenges to data transfers from Europe today??
Why is Privacy Shield qualitatively different from Safe Harbor??
Are Standard Contractual Clauses (SCCs) and Privacy Shield comparable??
If both the use of SCCs and Privacy Shield are annulled, what then??

More information about this stream: <http://www.cpdpconferences.org/25012017/cave.html>

The Panel is organised by BSA | The Software Alliance. Read more about Galexia's work with BSA »

More information about the conference is available at: <http://www.cpdpconferences.org>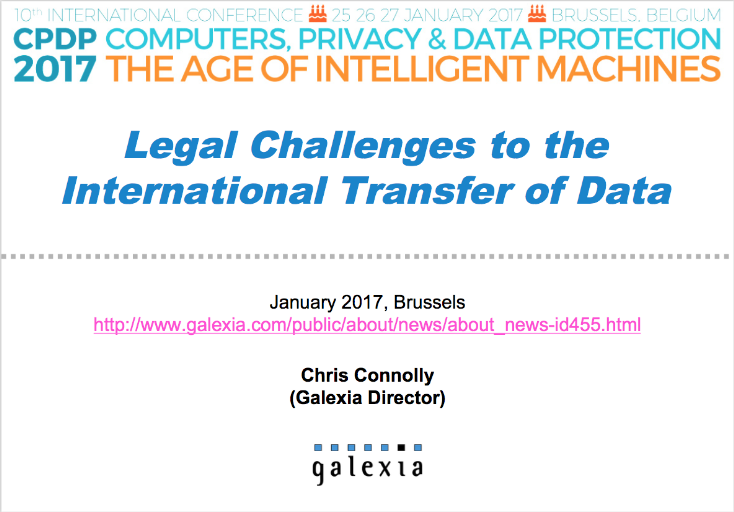 [Download presentation slides (PDF) »]