Research
Workshop - Legal Challenges to the International Transfer of Data (January 2017)

Related Galexia services and solutions

Related Galexia projects

Related Galexia news and articles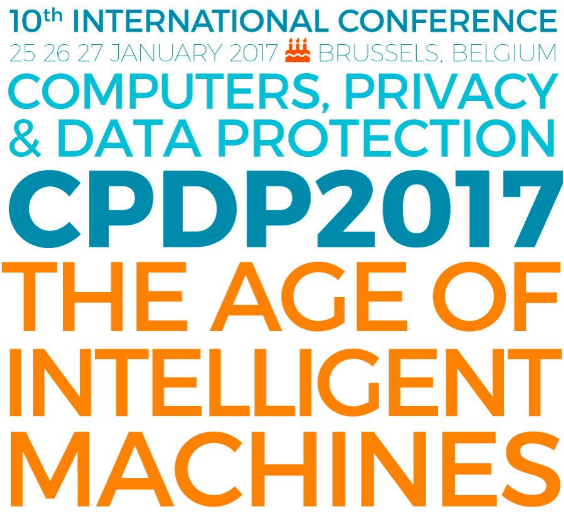 Slide Presentation at CPDP2017 (The Age of Intelligent Machines) Computers, Privacy & Data Protection 10th International Conference, Brussels - 25 January 2017
Galexia Director Chris Connolly presented at CDPD2017 - The Age of the Intelligent Machine at the 10th International Computers, Privacy & Data Protection (CPDP) International Conference in Brussels on 25 January 2017.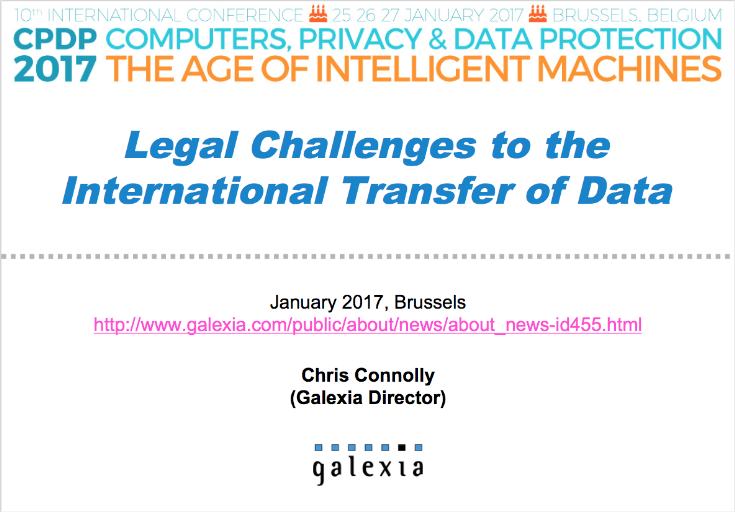 [Download presentation slides (PDF) »]
UN advice on data protection and international data flows
UN report:
Data protection is directly related to trade

Too little protection can create negative market effects through affecting consumer confidence
Too much protection can overly restrict business activities and trade

Ensuring that laws consider the global nature and scope of their application, and foster compatibility with other frameworks, is critical
UN concerns on cross border data transfers / surveillance
Gaps in coverage

No laws, partial laws or laws that contain broad exemptions

Negative impact of data localization on trade and development
Balancing surveillance and data protection

Support for 'Necessary and Proportionate' test
Support for 'Narrowly Tailored' test

(in the US the term is 'as tailored as feasible')

Support for the provision of judicial redress for data subjects, regardless of nationality
Promotion of 'transparency reports' by business
Privacy Shield and SCCs: Three potential vulnerabilities to legal challenge
1. Bulk Surveillance

Presidential Policy Directive 28 (PPD-28) 2014 allows bulk surveillance in six circumstances. Five are narrow in scope and tackle serious / significant risks. However, the sixth category is just the word: 'cybersecurity'. There is no additional test (e.g. serious risk) and no details are provided about the scope of this term.

2. Independence of dispute resolution

European and US approaches to the independence of dispute resolution providers are contrasting, with stricter rules applying in Europe.

3. Fine print exclusions

History of businesses relying on fine print exclusions (Safe Harbor, APEC CBPRs) to limit scope of their certification and / or to limit dispute resolution. This practice has reduced in recent years, but is open to challenge in the Privacy Shield and SCCs.
Next steps
1. United Nations

Promoting the development of consistent privacy laws, especially in developing nations
Discouraging data localization
Promoting a balanced approach to cross border data transfers and surveillance

2. Privacy Shield

The annual review is an opportunity to strengthen some protections

(e.g. promoting independent dispute resolution and removing fine print exclusions)

Clarify some of the framework text

(e.g. the scope of the 'cybersecurity' bulk surveillance exception)

3. SCCs

EC tasked with ensuring that the recent protections introduced in the Privacy Shield are extended to SCCs, and that a proper governance framework is established for SCCs (e.g. monitoring and regular reviews)
Further information
United Nations Conference on Trade and Development (UNCTAD) - Global Cyberlaw Tracker
Data protection regulations and international data flows: Implications for trade and development (April 2016)
BSA / Galexia Global Cloud Computing Scorecard (April 2016)

Look out for the updated version in mid-2017

Galexia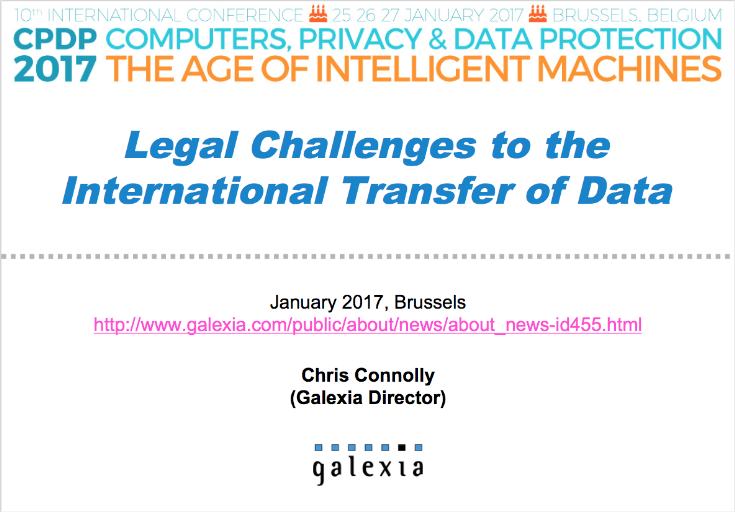 [Download presentation slides (PDF) »]
Galexia Director Chris Connolly presented at CDPD2017 - The Age of the Intelligent Machine at the 10th International Computers, Privacy & Data Protection (CPDP) International Conference in Brussels on 25 January 2017. 
Read more »